PHOENIX — Arizona is the victim of massive fraud in its health-care program, Gov. Katie Hobbs and Attorney General Kris Mayes said Tuesday, and they blamed their Republican predecessors for ignoring it.
The scheme involves "sober living homes'' signing up Native Americans, often on the streets, with promise of treatment, the Democratic governor and attorney general, who took office in January, said at a news conference.
But they said when patients got to the homes there was no treatment and, according to Hobbs, some had to "escape out of windows and jump over fences in the middle of the night just to access a phone to reach the outside world.''
Hobbs said the Arizona Health Care Cost Containment System, the state's Medicaid program, was billed for the "services.''
Mayes said scammers used the names of Native Americans — some who were dead — to bill for services never provided.
This, the two contend, occurred because AHCCCS, under the direction of an appointee of former Gov. Doug Ducey, and the Attorney General's Office run previously by Mark Brnovich, failed to adequately address the problems.
"This is what you get when you have a governor who didn't care about governing,'' Mayes said.
Rebuttal by former officials
That drew sharp replies from a spokesman for Ducey and from Brnovich.
"The investigations revealed today had been underway for several years, well before the current occupants took office,'' said Daniel Scarpinato, who was Ducey's chief of staff.
He pointed out that even Mayes acknowledged there were more than 40 prosecutions and $75 million recovered during the past three years — long before Hobbs and Mayes took office in January.
Scarpinato called the Democrats' news conference "grandstanding.''
Brnovich had a similar reaction. "Our office prosecuted a record amount of health-care fraud cases,'' he said. "It's sad that the governor and current attorney general are more focused on scoring partisan political points instead of protecting Arizonans.''
But Mayes said the prosecutions of the past amounted to a "whack-a-mole'' approach of going after individual fraudsters but never recognizing, or addressing, how to prevent the problem.
The alleged schemes
Each case of fraudulent claims cited by Hobbs and Mayes involved care for Native Americans.
Most of the more than 2.4 million residents enrolled are in health-care plans paid through a flat fee of federal and state dollars for all care.
But under federal law, services to Native Americans are provided on a fee-for-service basis. Mayes said that makes it attractive for sober living homes to seek out and sign them up for care.
Mayes said that's only part of the scam.
"They simply purchased lists of names and dates of birth of people and used those to bill AHCCCS,'' she said.
There even were cases where the state was billed for services she said were "impossible to render,'' such as 13 hours a day of alcohol rehab services for a 4-year-old for whom they had the child's AHCCCS identification card.
"This poor child was not in one of the facilities and did not need alcohol rehabilitation,'' Mayes said.
She said there were similar billings, like $1 million for treating a woman and her children over the course of a year.
There also were services for "patients'' who were dead, in jail, or clearly not in Arizona at the time.
Estimate: 'Hundreds of millions' lost
Most of this went undetected and unprosecuted, Mayes said, despite what she said were complaints registered by investigators for AHCCCS and within the office she inherited from Brnovich.
"This never should have been allowed to happen,'' she said.
Mayes estimated that in the past three years "hundreds of millions of dollars'' were lost due to fraud. But she declined to put a specific figure on it.
"I wish I could be more specific about that,'' Mayes said. "I don't think it is too much to say this is one of the biggest scandals in the history of the state of Arizona when it comes to our government.''
"The previous administrations were asleep at the switch, asleep at the wheel,'' Mayes said. "The Ducey administration was, at best, negligent while they allowed scam artists and fraudsters to take advantage of the antiquated, outdated systems and incompetent management of AHCCCS.''
She said Brnovich did not provide "leadership'' for his staff — now her staff — to pursue the issue.
"He and Gov. Ducey should have done what Gov. Hobbs and I are doing today: taking aggressive action to shut down the money supply to these fraudulent actors and working to ensure that we root out fraud and abuse in our state's Medicaid program,'' Mayes said.
Carmen Heredia, tapped by Hobbs to head AHCCCS, said the first part of that now is occurring.
"We have suspended payments to approximately 100 Medicaid providers based on credible allegations of fraud,'' the first step of what's required under federal law, she said.
'It is suspicious'
Mayes said alarms should have been going off in the AHCCCS administration under the direction at the time of a Ducey appointee.
In 2019, she said, $53.5 million was billed to AHCCCS under the code of outpatient behavioral health services. That more than doubled to $132.6 million the following year, went to $291 million in 2021, and hit $668 million in the 2022 fiscal year.
"I can't stand here and tell you how much of that growth represents fraud,'' Mayes said. "But our agents will tell you, that is extraordinary growth. It is unusual, it is suspicious.''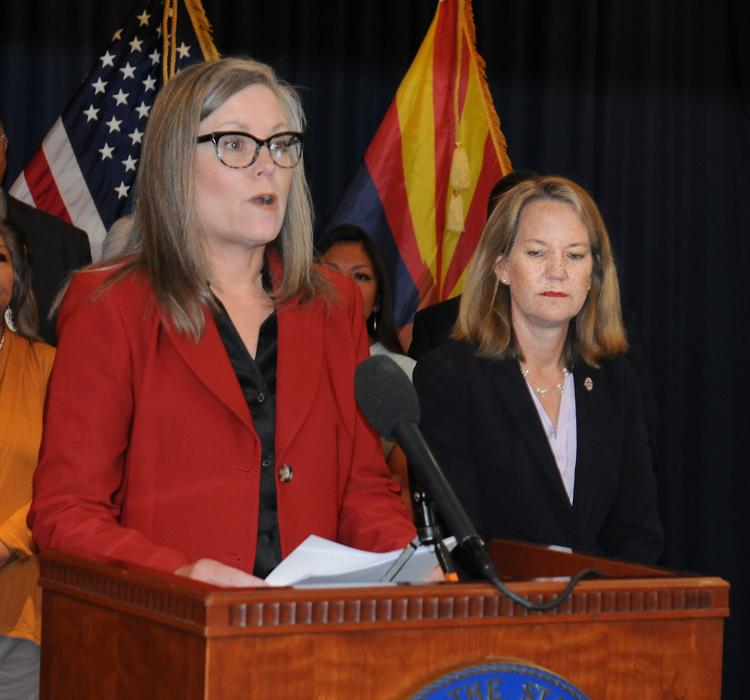 Mayes made it clear there were some efforts to pursue the problem before she took office in January. In fact, she was the one who acknowledged that more than 40 people were indicted in the past three years and the state has recovered $75 million.
But the problem, she said, is that no one in either AHCCCS or the Attorney General's Office undertook a systemic review.
She and Hobbs claimed failure starts at the top.
Mayes said prosecutors and investigators in what is now her office have been "screaming from the rooftops'' for some time now, "trying to get the leadership of the Attorney General's Office and the leadership of AHCCCS to shut down the money'' as a way to address the problem. Similar alarms were being raised by investigators in AHCCCS, she said.
Instead, she said, Brnovich and AHCCCS went after individual offenders as they were found. All that did, Mayes said, is result in those people simply forming a new corporate entity to go back in business.
"You can't prosecute your way out of this problem,'' she said.
There's another facet to the problem. Several tribal leaders said the recruitment — possibly not entirely voluntary — led to questions of whether some tribal members who go missing are being held against their will in sober living homes.
Howard Fischer is a veteran journalist who has been reporting since 1970 and covering state politics and the Legislature since 1982. Follow him on Twitter at @azcapmedia or email azcapmedia@gmail.com.
Related Posts