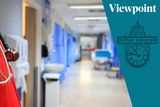 hospital ward (Peter Byrne/PA)" src="https://focus.belfasttelegraph.co.uk/thumbor/hmeh4f3ES0nY–wWoHKuIuV7ntM=/132×0:1865×1155/160×107/prod-mh-ireland/d4813074-e913-4f7e-ab44-1db3fdc6ec35/571577cf-0a45-420d-a8a1-4b99aa9d2bd8/d4813074-e913-4f7e-ab44-1db3fdc6ec35.jpg" height="40px" width="auto"/>
The daily dose of ailments in the health service continues. And now it seems it's not just patients who are suffering on the end of waiting lists for hospital appointments, it's GPs who are finding themselves caught in the middle. More GPs are now being sued by patients for a failure to secure a timely hospital appointment.
Starved of doctors, starved of nurses, starved of beds, starved of financial support, starved of morale and starved of leadership from politicians, the whole system is eating itself from within. Pretty soon it will be chewed down to the bone.
Already there are many GP surgeries in crisis.
Last year 20 were declared 'at risk' and 16 of those have closed, handing back their contracts. This year 30 more are at risk as Dr Alan Stout, chair of the British Medical Association (BMA), told the Northern Ireland Affairs Committee at Westminster last week.
There, he painted a very bleak picture of what GPs were facing. Many are leaving for better opportunities, better conditions and better pay elsewhere.
If GPs are also left carrying the can for the failure of the health system when it is little fault of their own, how is Northern Ireland ever going to improve the situation?
GPs in Northern Ireland are not covered by a state-backed scheme and pay thousands of pounds a year to be covered for clinical negligence.
The Department of Health said: "We are continuing to take forward work to look at the model of GP indemnity provision in Northern Ireland," but concluded the statement adding: "It is likely that any final decision on the implementation of a new model for GP indemnity in Northern Ireland will require ministerial agreement."
There is currently no Minister for Health, the ultimate blockage in the system. And we all know what happens in medical terms when there's a blockage in the system. The whole system fails to work, starts shutting down and the prognosis is not good.
There is no easy fix. Simply throwing a lump sum of money at the problem without any coherent strategy across all of health will lead to money being frivolously spent on quick solutions to problems without any guarantee they won't resurface in the future.
We can only hope that all those in management level within the health service are working together on bringing a plan together on how best to look after the health of the nation. It would be nice to think that, if or when we do have a government up and running again, they can get to work right away on the cure.
Related Posts