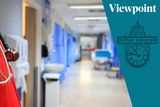 hospital ward (Peter Byrne/PA)" src="https://focus.belfasttelegraph.co.uk/thumbor/hmeh4f3ES0nY–wWoHKuIuV7ntM=/132×0:1865×1155/160×107/prod-mh-ireland/d4813074-e913-4f7e-ab44-1db3fdc6ec35/571577cf-0a45-420d-a8a1-4b99aa9d2bd8/d4813074-e913-4f7e-ab44-1db3fdc6ec35.jpg" height="40px" width="auto"/
The daily dose of ailments in the health service continues. And now it seems it's not just patients who are suffering on the end of waiting lists for hospital appointments, it's GPs who are finding themselves caught in the middle. More GPs are now being sued by patients for a failure to secure a timely hospital appointment.
Starved of doctors, starved of nurses, starved of beds, starved of financial support, starved of morale and starved of leadership from politicians, the whole system is eating itself from within. Pretty soon it will be chewed down to the bone.
Already there are many GP surgeries in crisis.
Last year 20 were declared 'at risk' and 16 of those have closed, handing back their contracts. This year 30 more are at risk
…
Read the rest